11.23.09
Good is Dumb(er than ever) is finally available!
To celebrate the 10-year anniversary of Ed in the Refridgeratos, we have reissued their classic debut recording, Good is Dumb, in its original CDr format. The original 10-song album is now available for the first time since the early aughts, complete with nearly 60 extra tracks! Disc one contains all the original 10 songs plus 4 demos from early 2000 along with Ed's entire February 2000 score for a MassArt student theatre production. Disc two contains complete recordings of the first 2 live shows ever performed by Ed in the Refridgerators: the first, a radio session recorded at WMFO in Medford, Massachusetts, and the second, a live show from Tufts University's Crafts House, also Medford, MA, both recorded in early October 1999. Also included in this deluxe reissue is an "Ed in the Refridgerators Gave Me Cooties" linocut-printed patch, a certificate of authenticity denoting this package's scarce availability, and a cassette tape featuring 11 Ed in the Refridgerators practice demos from Summer 1999, recorded just before Good is Dumb, all encapulated in a screenprinted, octuple-folded cardboard packaging.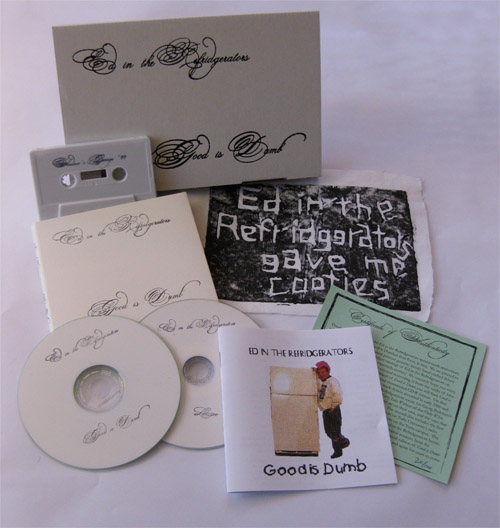 Limited to just 100 copies, so order now!
05.19.2009
Hahaha. The last time I updated this website was 4 years ago. Whoops. I bet we've easily gotten at least 10 orders since then. That's like 2.5 orders per year! MySpace has come and gone, but we're still here. Long live the World Wide Web! I can't complain though. Harry and the Potters got to ride the rock-star coaster for a while and we even sold some records while we were at it. Far more than our modest aspirations would have allowed us to guess at.
You ask: so what's new Paul? Why the update all of a sudden?
Well, there's actually some new releases in the works! Wowzers! And it's not all wizard stuff either! Y'all can deal with that right? If we go back and write songs that aren't about cauldrons and wands and things? You won't abandon us will you?
Here's what's on tap:
Harry and the Potters' 500th show and Priori Incantatem 2-disc set
This June, Harry and the Potters will play their 500th show in their old elementary school in Norwood, MA! In May, they clean out the vault with a 2-disc collection of music that's been accumulating over the last 7 years. Disc one contains all their compilation appearances, their two out-of-print 7"s and a whole slew of previously unreleased tracks. Disc 2 is exclusive to the CD pressing and has 16 previously unreleased demos from 2003-2009. Cool!
Ed in the Refridgerators' 10th anniversary!
It's hard to believe, but we're fast approaching 10 years of Ed in the Refridgerators. Joe and Andrew are promising to commemorate the occasion with a special anniversary show this summer, along with an expanded re-release of their 1999 demo, Good is Dumb. Rejoice! Good is Dumb will be available for the first time in like 9 years!
the dæmons debut EP!
Paul's got a new band! It's a boy/girl, lovey-dovey duo with high-brow songs about art, low-brow songs about pizza, and all the good things about life. Their songs are sure to find places on your next mixtape for that special someone. And now you can download their debut EP for free!
Also, we have tons of CDs in our parent's basement, so please continue supporting honest, independent, American artists like us!
Thanks,
Paul T. DeGeorge
Eskimo Laboratories Proprietor