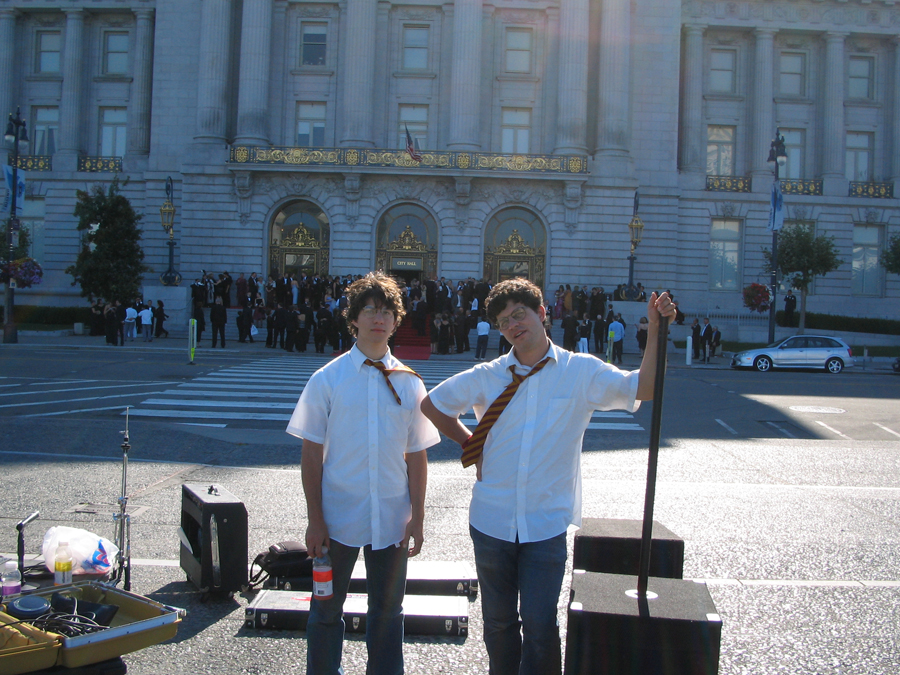 Imagine if Harry Potter quit the quidditch team and started a punk rock band. Take that one step further and imagine that he stole a time-turner and decided to start that band with himself from a different point in time. Imagine that band could exist without compromising themselves. Imagine that they are able to operate completely independently, without managers, booking agents, recording budgets, publicists, record labels, or anything aside from a sense of enthusiasm and a desire to have fun.
Hello. We are Harry and the Potters.
We are brothers Paul and Joe DeGeorge. We started this band in 2002 when Joe was 15 and Paul was 23. We played our first show in a shed in our parent's backyard.
We never quite expected this project to last as long as it has. Since our first show in our parent's backyard, we have played over 500 shows in 49 different US states and in a handful of foreign counties. We have played in libraries, bookstores, rock clubs, theaters, galleries, museums, doughnut shops, bowling alleys, pizza places, and even a pirate-supply store. We always try to make our shows unique and unexpected experiences that attempt to capture some of the magic of these books we love so much.
Over the years, we have been able to do a lot of awesome things.
Our first show was June 22, 2002. We wrote songs that afternoon and played in our parent's backyard to 6 people.
When Harry Potter and the Order of the Phoenix was released in June 2003 we played 5 shows in 24 hours.
The first time we played in Texas, someone emailed us and told us about a pedestrian bridge in Austin with live electrical outlets where bands would sometimes play until the cops showed up. We couldn't resist, so we put it up as one of our tour dates. We lugged all our gear, including our PA, about 1/4 mile out into the middle of the bridge where there was a single working outlet. We played to about 70 people in the middle of this bridge on a gorgeous November night overlooking downtown Austin. The cops never showed, but we blew out one of our speakers. That happened a lot on that tour.
When Harry Potter and the Deathly Hallows was released in July 2007, we played what was basically a DIY show in Harvard Square for about 10-15,000 people.
In November 2005, we gave a lecture (in character) at Texas A&M that was entitled: The Power of Wizard Rock
On our first tour in 2004 we played a show in a residential bathroom in Huntington Beach, CA. There were at least 15 people there.
We are on a Trivial Pursuit card in Sweden. I'm not even kidding. Proof.
We played our 500th show on June 19th, 2009 in our old elementary school in Norwood, MA.
A lot of people have played drums for us. Thank you Ernie Kim, Bradley Mehlenbacher, Andrew MacLeay, John Clardy, Philip Dickey, Jason Anderson, Ben Macri, Zach Burba, Mike Gintz, Jimmy Kleiner, Jacob Nathan, Mike Harpring and a small handful of others.
In 2007 we launched the Wizard Rock EP of the Month Club, a subscription club featuring monthly releases from wizard rock bands. Proceeds from the club go to literary-based non-profit organizations. To date we have raised over $50,000.
In 2005 we helped co-found the Harry Potter Alliance, an organization that inspires social activism based around themes from the Harry Potter books. The HP Alliance was recently recognized by author JK Rowling who wrote: "I am honoured and humbled that Harry's name has been given to such an extraordinary campaign, which really does exemplify the values for which Dumbledore's Army fought in the books." Paul continues to serve on the Board of Directors of the Harry Potter Alliance.
We feel immensely grateful for all the opportunities this band has afforded us. We have made so many wonderful friends and met so many amazing people. Thank you to everyone who ever booked us a show, let us sleep at their house, brought us food, or sent us a nice email or letter. Thank you to everyone who ever helped support us by purchasing a CD or t-shirt or by coming to a show. Thank you to everyone who has let us become a part of their lives. Thank you for singing along with us for the past 9 years and thank you for your friendship. We are honored.
Your friends,
Paul and Joe DeGeorge